Class Size
Age-Appropriate, Small Classes!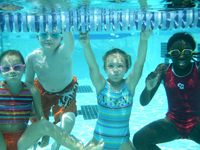 The Swim Lessons Company offers classes in several formats:: Private, Semi-private (2 student), Trio (3 student), Quad (4 student), and Small Group (6 student). Each class type has its advantages, but it is our goal to make every class we offer the absolute best class it can be for your child. Let's take a look at the different classes we offer and discuss the advantages of each.
Trio, Quad, and Small Group Lessons
The small group classes are strictly limited in size to ensure each child receives plenty of attention and so that the environment will promote learning the skills we are teaching. Small groups are conducted on the half-hour so the lessons are designed to be 25 minutes long with 5 minutes to spare for "hellos" and "goodbyes" and any communication with parents. There are 3 advantages of the small groups:
Peer Learning - Peer learning is very powerful. The "if she can do it I can do it! logic is very real and goes a long way in learning and improving skills.
Fun - The more the merrier so to speak, and children love being around other children their own age. More than any other class scenario, "small groups" capture this critical component of learning most effectively. It's human nature. It's natural for you to do better at skills you enjoy.
Price - Trio, Quad, and Small Group Lessons are certainly the most economical because the addition of more students bring down the overall cost of the class.
Semi-Private Lessons
Semi-private lessons are limited to two students. This may truly be the most effective of the three types of lessons. Your child gets TWICE THE ATTENTION as in a small group which can enhance your child's ability to learn technique. Practice time is also increased even though privates and semi-privates are 20 minutes in length vs. 25 minutes. With two less children in the class, they are more active participants getting more feedback, more "hands-on" help thru maneuvering the arms and legs thru proper movement patterns, and more repetition--which is the "mother of learning."
But what about semi-privates vs. private lessons? Number one, studies have shown that if a learner receives feedback more than 50% of the time that this can actually hinder the learning process. With two children per class, this rarely occurs. And while our teachers have all been exposed to this study, it is still a factor. The results of the study illustrate that too much feedback hinders learning because the learner becomes dependant on the feedback vs. having time to consume it and practice it. It's kind of like memorizing something. If the answer is always there, you become dependant on it because its easy and always there, and you never digest it--therefore you don't learn it. A personal example is that my wife and I have been married for 7 years and I still don't know if I could find my way to her dad's house. Why? Because she tells me what turns to take 100% of the time, which has hindered my ability to process and actually learn how to get there despite all the repetition.
Other BIG ADVANTAGES of semi-private lessons are that they are still FUN because your child does have a peer in which to interact, which helps the teacher maintain the integrity of the teacher-student relationship. While this is rarely a problem in the first several private lessons, over time the discipline/behavior problems start to emerge because in a private lesson the teacher has to almost become a friend of the child to keep the class fun, and the result is an erosion of the teacher's authority
The last advantage is the PRICE. While it certainly isn't as economical as a small group class, you will probably find yourself getting the most out of your investment. You may even be able to do a combination of semi-private lessons and groups or semi-private lessons and privates, or two semi-private lessons a week. Another idea might be to alternate them by session. In other words, do semi-private lessons for this session, do small groups for the next, do privates for the next, and so on. Find out what works best for your child. You know him/her better than anyone!
Private Lessons
Private lessons are limited to one student. The biggest advantage of the private lessons of course is that YOUR CHILD GETS ALL THE ATTENTION! This can be extremely valuable, but in my opinion, the high value of the "one-on-one" does have a time limit. In other words, I believe your child will improve faster in a private lesson than in any other lesson but for a limited period of time. In other words, you get diminishing returns on your investment of over time. What is that time period? It's really hard to say but you will see it if you watch closely enough. You can also ask your teacher. They will know. I tell my student's parents all the time when that time comes. There's no need for you to spend big bucks on privates when you will get better results on a lesser investment. It does varies from one child to the next and from one teacher to the next, but eventually it does happen. Here's why:
Because of the MISSING PEER INTERACTION DYNAMIC. The teacher sometimes has to become the child's friend, resulting in some attention and discipline problems. It rarely occurs right away, but it almost always occurs over time. AND they get BORED without their peers.
As mentioned earlier, studies have shown that TOO MUCH FEEDBACK (more than 50% of the time) CAN HINDER LEARNING. Our teachers have all been taught this, but it is still a factor. The reasoning too much feedback hinders learning is that the learner becomes dependant on the feedback vs. having time to consume it and practice it.
But if you really like privates lessons, here's my advice: Do a combination of privates with groups or semi's, i.e., Monday do privates, Wednesdays do groups. OR . . . alternate sessions of private lessons with sessions of group lessons or semi-private lessons. In Spring I, maybe you may do privates. In Spring II, maybe you do groups. In Maymester, maybe you do semi-privates,. In Summer I, you go back to privates, etc. Again, you know your child better than anyone. I just want you to consider the pros and cons of each so that your child gets the most out of your investment.
If you have further questions or would like my personal advise for your child, I'm always happy to talk to personally talk to you. Just give me a ring!
Jim Reiser, M.S. - Founder of The Swim Lessons Company