Parent & Me
AGES: 6-36 months
Prerequisites: None
Description
Welcome to The Swim Lessons Company's Infant-Toddler program. This section of our website will hopefully answer your questions and alleviate any concerns you may have. We will also share our philosophy and approach to teaching infants and toddlers, as well as discuss the importance of making children safer in and around the water through parent education and instruction. We thank Rob Mckay, producer of the "Diaper Dolphins" video series and owner of Lifestyle Swim School, for sharing much of information below. Signup Now
Success Story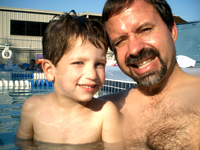 "I have just gone through the "Parent and Me" class for the first time and I will tell you that I am set to enroll again for the next session. This experience has been invaluable both in terms of putting my son, Trent, at ease in the water as well as providing Trent and me a new way to bond as father and son while we learn together. I have watched Trent's improvement with a great deal of pride. There is no way that I would have had the skill or the courage to attempt some of the progressions that we now go through so effortlessly. I especially appreciate that you do not force the children to go through these progressions, but rather provide them a fun environment that motivates them to want to try the next step. This has made it easy for Trent and his Dad to have fun in learning. We look forward to seeing you in many future swim sessions. Many thanks!"
Michael Seaman, PH. D & his son Trent Parent & Associate Dean of the USC College of Education
Our Philosophy
When focusing on the infant-toddler's level of well being and readiness, baby swimming is taken to a higher level beyond that of strictly acquisition of physical skills. Baby swimming has so much to offer when approached in a nurturing, child-paced, "baby friendly" environment: boundless joy, self confidence, personal development, as well as happy, healthy and well adjusted children. Learning through songs, interactive games and group activities, appeals to a child's sense of curiosity, wonder and play. All complemented by colorful toys and other engaging aquatic apparatuses. With mom and dad as co-teachers in the pool, in a group format with other like-minded parents, babies can learn to relate to the water with ease and confidence. Infants as young as seven months old can begin to learn to rediscover the liquid environment they left behind in the womb.
Raising the bar on teaching with kindness and joy
Do no harm". As we enter the new millennium, parents need to be conscious of the fact that the subjugation, forcing or traumatizing of their child in order to learn how to swim, is archaic, stressful to the child and simply unnecessary. This reactionary approach could result in "today's solution ending up being tomorrow's problem." (Jacob) Teachers and parents need to stay in touch with the feelings and perceptions of the child as the immediate and long term consequences of their actions can impact the child for life, both emotionally and mentally. What is expedient and what is ethical may be two different things. Making "survival" back float an imposed priority to unwilling infants and toddlers or children of any age can have a devastating effect on the well-being of the child, as well as society. The same holds true for forced frontal submersions and guaranteeing children to swim or to be "drown proofed" in compressed time frames. Let it be known that crying, distress or the surrendering of one's spirit are not prerequisites to learning how to swim. "Teach me, don't hurt me". As parents and teachers our intent must be focused on sowing the seeds of love and kindness which will bear fruit of a most wondrous kind-beautiful, caring human beings
Success Story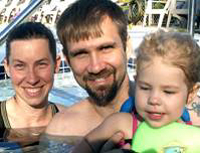 As a former collegiate swimmer and a diver with a teaching background, we had high expectations for our daughters swimming teachers. Coach Jim and his staff have exceeded those expectations and then some. Our daughter has gone from being very nervous at the start of her to crying because she doesn't want her lesson to be over! We are so happy that we are able to give her the opportunity to learn to swim in such a warm, fun, child centered environment.
Nicole, Keith, & Isabella Iwinski College Diver, All-American
When will they really learn how to swim?
Infant swimming to us is the ability to move harmoniously through the water on their own accord, initially for very short distances. In the younger stages, the primary mode for propulsion is kicking. For those families who continue to practice, their child will eventually be able to jump in, turn around and swim back to the side. Will my child be drown-proofed after taking swim lessons?
No child is ever "drown-proof." No child is ever "safe." This is the most important message every parent must understand. Through ongoing instruction, skill attainment, and through the implementation of the Safer 3, a child will be "safer" in and around the water and if all parents execute the implementation of this layered approach the troubling drowning statistics will dramatically be reduced--hopefully to zero. "Touch" supervision should be in effect for all infants, toddlers, and children who don't know how to swim when they are playing in or around the water. Constant adult supervision should be provided for all children whether or not they are accomplished swimmers. "Children drown without a sound." And all parents should learn the "Safer 3:" Safer Water (utilize proper fencing, gates, gate latches, alarms, and other safety equipment), Safer Kids (constant supervision and swim skill attainment through ongoing qualified instruction), and Safer Response (learn CPR, first aid, and rescue techniques. Keep an emergency action plan and phone by the pool).
What swimming skills will they learn?
Potentially life-saving skills will be taught when the child has had adequate training with the pre-requisites. These skills are only taught when the child is comfortable and ready. The technical maneuvers are never taught prematurely or inappropriately introduced. The progression to the mastery of the safety skills includes water adjustment, blowing bubbles, kicking, getting comfortable with having water poured on face, facial immersion, and elementary swimming movements both underwater and at the surface.
There are two basic safety skills we teach through the progression of exercises and activities we work on every class.
The first safety skill teaches a toddler to enter the water, turnaround, and grab the side of the pool. This is the most practical method of self-rescue for infant/toddlers as the majority of accidents occur near the edge of the pool or other bodies of water.
The second safety skills teaches the infant/toddler enter the water and swim limited distances to safety, using a variety of practical techniques of moving through the water. We teach a basic underwater swim which progresses to a underwater swim with a "pop-up" or "roll-over" to achieve the breath, and we also teach a paddling stroke for those not comfortable swimming underwater.
These skills all take a lot of practice but can be successfully mastered if you pursue continued, qualified instruction. So at what age can they do what? Well that does depend on how much practice they've had, but if they stick with the program we have found the following to be fairly accurate:
We have found that by eight (8) months, a baby can begin to learn to hold his/her breath and be comfortable enough in the water that in the case of an accidental water entry, it may buy the parent a few valuable extra seconds. At nineteen (19) months, a toddler who has had significant practice time can begin to learn to return to the side of the pool. By twenty-four (24 )months, this skill could be executed with ease.
Success Story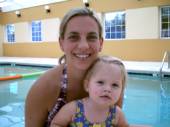 "We enjoy classes with The Swim Lessons Company because of their effectiveness, but also because they make learning to swim fun for all ages. Each class is carefully designed for the age group of the students. Each lessons uses props, songs, and age appropriate learning techniques, all of which help the children learn to swim. AND . . . the results we've seen are TREMENDOUS!"
Kristie & Ben Jones, Southeast Columbia
Frequently Asked Questions
My pediatrician says I should wait to start until my baby is 4 years old?
The American Academy of Pediatrics stated that children are not developmentally ready to learn to swim until they are 4 years old. I would agree that this may be true in the absence of professional instruction. However, The Swim Lessons Company itself has two year olds a numerous two year-olds, who again, can safely enter the water and return back to the side of the pool without assistance. Wouldn't you feel more at ease if your child was developing those lifesaving skills? The Swim Lessons Company also has numerous three olds who can perform backstroke and freestyle with side breathing and are extremely competent in the water? It is our professional opinion through teaching swimming "hands-on" for 23 years--that there is NO REASON to put off teaching your child potentially life-saving skills.
So when is the best age to start teaching a child to swim you may ask?
Our most honest answer . . . YESTERDAY! Thousands of child-centered programs around the world, bares witness to the fact the infants and toddlers can "swim". Some people who are unaware, think that you must swim freestyle to be swimming. If you ask most experienced "baby friendly" swimming teachers, they will tell you that swimming is "harmonious movement through the water".

The AAP is also concerned about water intoxication, which can be an issue when babies are taught with forced, premature, repeated submersions; forced back floating or where children are crying or gagging. However, if an infant/toddler is taught in a gentle, gradual child-paced curriculum, following safe teaching guidelines, there is no reason for concern.

The AAP's biggest concern is that parents will become complacent once their children can perform safety skills. Children are naturally attracted to the water. Not knowing how to swim has never stopped a child from drowning. The complacency argument could be applied to any safety measure. i.e. This infers that if a parent has taught his child not to go in the street, that they will no longer watch their child in the yard. Responsible, well informed parents will take all necessary precautions to ensure the safety of their children, especially where water is concerned.(ie. supervision, barriers, pool safety fencing, infant-child CPR and "child-centered" swimming lessons). Do all infants and toddlers love to swim?

I wish they did. Unfortunately, some babies are very cautious about everything. Some are frightened of new situations or strangers. Others are extremely uncomfortable with water on their face. Often, this child's parent is also adverse to water on their face. Parents need to be relaxed, transferring calmness to their baby. Positive, proactive parenting, consistent practice and very gradual introduction to water on the face (above the surface) all combine for success. A frightened infant or toddler can be creatively redirected to comfort through playing games, singing songs and appealing to their vivid imagination. A positive group class situation greatly helps to ease the fears of most children. Focus on what your child can do and be patient. Eventually, through a trusting and secure learning environment, play and perseverance, a tolerance for water on the face will be developed. Do not submerge children until they are relaxed and adjusted to water poured on their face. This can take time, but it's worth the effort. Your child will appreciate it

.
What is the best age start?
We have observed that the optimal age to start babies is between six months and 12 months old. At this stage the majority of infants are ripe in the water. They are comfortable and the water feels natural. These young babies still seem to have a memory of the fluid environment in the womb. However, a window of opportunity for smooth learning still exits up to approximately 18 months old (especially for water adjustment and initial submersions). Between 19 months to 24 months toddlers can begin to enter the "challenging two's" phase. It's easier to teach water adjustment and breath control before this stage begins. However, it's never too late when utilizing a creative and interactive curriculum. The group class structure works miracles and motivates children to participate with their peers at any age.
What do you think about floatation devices?
At the infant-toddler level, we strategically use a progressive floatation device for toddlers ages 19 mos. and older but do not use it exclusively. I personally think the proper use of particular floatation devices can catapult learning and even promote the development of better fundamentals in terms of body position and kicking. Much of my graduate work in physical education focused on motor skill acquisition. The power of practice time, the positive effect of kinesthetic cues on children, and the ability to practice with proper technique always surfaces when working with infants and toddlers in the pool. While we certainly aren't giving the children technical instruction at this age, the fact that when they're using the proper progressive buoyancy device their ability to practice skills more effectively is dramatically increased. They learn to maneuver their bodies through the water independently of parents and teachers and therefore master their balance in the water and "feel" how to do it. In addition, quality practice time is significantly increased and practice is the "mother of all skills."
With regards to developing a "false sense of security," I think it's important that children learn the difference between swimming with and without the progressive floatation device so THEY KNOW THEY ARE DEPENDANT ON US. However again, responsible, well informed parents will take all necessary precautions to ensure the safety of their children and enforce "touch supervision" at all times when non-swimmers are in or around the water.
If we take a break over the winter, will they forget everything?
No. However, a baby's swimming abilities can become "rusty" if you are unable to refresh their skills at least once a week. What we have observed is that for each month your child is not in the pool, it takes approximately 1 to 2 days to return to their previous level. For example, if you take a 5-month break from swimming, when you first return to the water it may appear that your child is starting from scratch. However, somewhere between the 5th and 10th lesson, you will be amazed at how their swimming abilities begin to return (as long as their lesson experience the previous year was a positive one). Cautious children or those returning from aggressive teaching methods can take much longer. Don't be surprised if children who endured forceful lessons the previous year will not even go near the water. Patience, a supportive atmosphere and a positive attitude on the part of the parent allows the returning student to regain their skills more rapidly.
A special thanks to my colleague and friend, Rob McKay, author of Diaper Dolphins and one of the foremost experts in infant-toddler swimming, for much of the information shared above. Signup Now